Comprehensive body repair
Our comprehensive body repair service offers complete solutions for your vehicle. From bodywork and paint to structural repairs, our team of experts ensures that your car is restored to its original appearance and functionality. Trust us for a quality repair.
Quick service on small repairs
In our sheet metal workshop in Valladolid, we offer a fast and efficient service for small repairs. From superficial scratches to small bumps, our team of professionals is in charge of quickly solving those problems that affect the appearance of your vehicle. Get your flawless look back in no time!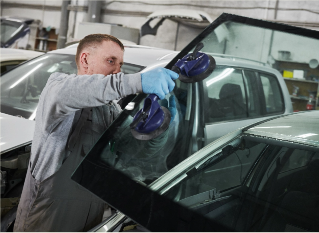 Glass replacement
When it comes to glass replacement, we are your trusted option. Our specialized team is responsible for accurately and quickly replacing any damaged glass in your vehicle, guaranteeing safety and quality in each installation. We assure you an impeccable repair.
Bumper repair
Does your bumper need repair? In our workshop, we offer specialized services in bumper repair. From minor scratches to more significant damage, our team of experts takes care of returning your bumper to a pristine, like-new condition. Trust our experience.
Parts replacement
We replace parts in your car with guaranteed precision and quality. We have a wide catalog of original and compatible parts, ensuring that your vehicle receives the right part for its perfect operation. Trust our expert service.
All kinds of finishes
In our Valladolid body and paint workshop, we offer all kinds of paint finishes for your vehicle. Whether it's a complete color change, touch-ups, or custom finishes, our team of expert painters ensures a flawless, long-lasting result. Transform the appearance of your vehicle with our exceptional quality.